Press Releases
Southeastern Exceeds Quality Standards Five Years in a Row!
LEXINGTON, S.C. (March 26, 2012)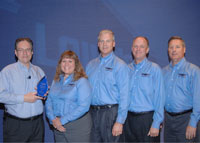 Southeastern Freight Lines, the leading provider of regional less-than-truckload (LTL) transportation services, has been named Lowe's Platinum Carrier of the Year, the highest award designation possible for the home improvement retailer.
Southeastern is the only LTL carrier to receive the Platinum-level award. This is the fifth-year in a row that Southeastern has earned the prestigious Platinum distinction by achieving all four goals set by Lowe's.
Lowe's measures carriers each week on meeting four primary objectives including on-time and claim-free deliveries - two of Southeastern's primary operational objectives. Consistently exceeding all four standards earns the Platinum level recognition.
A continuous quality improvement process is the bedrock of Southeastern's leadership in the industry. Through this framework, Southeastern measures every aspect of its business and strives to satisfy every customer completely, becoming more efficient in the process. Southeastern monitors data through the process every day to recognize any trends that fall outside of the goals, working with customers and the entire supply chain to address issues before they become problems.
"We appreciate this honor from Lowe's and value the outstanding relationship we have developed over the years," said Braxton Vick, senior vice president of corporate planning and development at Southeastern Freight Lines. "We absolutely welcome and thrive on being measured by our customers. Meeting Lowe's standards for five straight years are a testament to the commitment our employees have in the quality improvement process."
All customers benefit from Southeastern's industry-leading performance, including 99.1 percent of next-day shipments delivered on time, 99.9 percent of shipments handled free of shortage or damage, and a 99.4 percent invoice accuracy measure.
---

To read this month's company newsletter, The Eagle Eye News, please click here.